Snellville signs on to $85 million development with 250 apartments
Snellville leaders signed an agreement Monday to build an $85 million mixed use development as part of the Towne Center project.

The Gwinnett city is entering a public-private partnership with commercial real estate company Casto and developer MidCity Real Estate Partners. The project is intended to be just the first phase of a greater development called The Grove at Towne Center. Towne Center is a separate city project intended to create a walkable space in Snellville's center where people can live, work and enjoy recreational activities.

Snellville and Gwinnett County will contribute a combined $30 million to the Grove project, city spokesman Brian Arrington said. That will cover a market building, a parking deck, a county library, work on roads and stormwater systems, and upgrades for walkability and a greenway.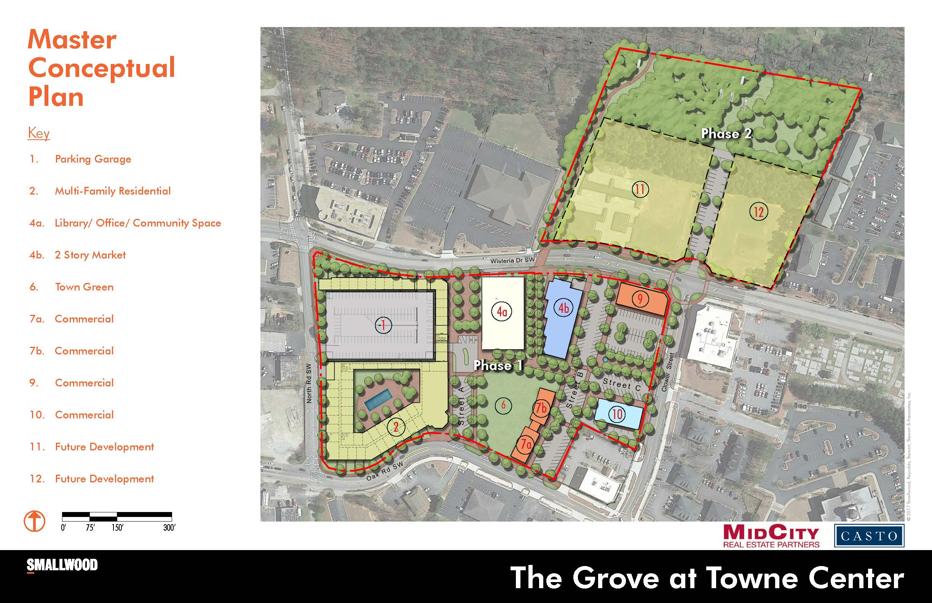 The Grove will include both public and private buildings, according to the city. Among them will be a new post office; the U.S. Postal Service agreed in July to move the Snellville post office from its current location on Oak Road to a city-owned former bank branch. The current post office is on land that will become the Towne Center Greenway. Plans for The Grove also include space for a library and a town green.

The private buildings include space for 250 apartments and more than 50,000 square feet of commercial space that could be used for shops, restaurants or office space, according to plans released by the city. There will also be a facility called the Market Center, intended to be the project's "anchor," according to a city release. What will go inside has not been decided, but one suggested use for the two-story building is having a brewpub on the first floor and an event space on the second, Arrington said.

Towne Center has been in the works for years, with pieces incrementally being approved by the Snellville City Council. In addition to The Grove, the city has OK'd plans for a network of walking and biking trails that will make up the Towne Center Greenway and an 88-unit senior living center that will be close to the project's core.

This article was first published in the Gwinnett County section of the The Atlatna Journal-Constitution on April 28th, 2019 and is written by Amanda C. Coyne. To read the original publication, click here.