Snellville approves zoning for Towne Center project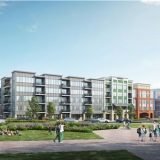 "The Snellville City Council recently voted to approve the zoning needed to move forward with The Grove at Towne Center. Construction is anticipated to begin this summer on the 18-acre project with the Town Center opening late in 2021 or early 2022.
'We look forward to the new community gathering space, beautiful new Gwinnett County Library and educational/business space and The Mercantile,' said Snellville Mayor, Barbara Bender. 'This new town center will create a sense of place we have been missing.'
The Grove will offer shopping, dining, recreation, office space, upscale residential housing, a new Gwinnett County Library, a specialty market/event building, and common areas.
'All the pieces are coming together on a tremendous public-private development to create a well-deserved town center for Snellville,' said Kirk Demetrops, President of MidCity.
Information: www.snellville.org/the-grove-at-towne-center.
This article was first published in the AJC on 01/29/2020 and was written by Karen Huppertz. Read the original here.