A Ripple Effect in Atlanta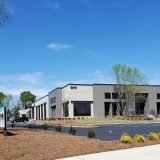 A Ripple Effect in Atlanta
The Atlanta, Georgia real estate market is booming in both the commercial and residential sectors, and local MidCity Real Estate Partners has its hand in developing the flourishing metro area. The master developer recently completed two projects – 5616 Peachtree Road and Alpharetta City Center – with its newest development, The Grove at Town Center in Snellville, scheduled to break ground in the fall of 2020.
5616 Peachtree Road, an office building northeast of Atlanta, opened in February 2020. The first of 10 new buildings at Alpharetta City Center (the corporate Headquarters of DataScan Holdings) were completed in 2018.
MidCity is thrilled for the opportunity to contribute in-demand commercial and residential real estate to the area and has had the foresight to develop in the burgeoning Atlanta suburbs of Chamblee, Alpharetta and Snellville. As its commercial and mixed-use building open, the firm anticipates a response of more growth in the metro area.
"These developments really cause a ripple effect," says Kirk Demetrops, Principal, President and Founder of MidCity. "And, these walkable town centers in suburban locations may be in further demand post-COVID-19
Filling A Void
5616 Peachtree Road is a redeveloped 40,000 square-foot industrial structure previously owned by a perfume manufacturer. MidCity acquired the vacant property and developed it into an urban-style, open-layout office building with ample windows and parking.
The site is in a walkable area near public transportation and restaurants with a direct connection to the Rail Trail (pedestrian/bike path) serving Chamblee. Many companies are choosing to move their headquarters to the area to cater to the needs and desires of young professionals.
"[These companies] are going to areas not traditionally sought after, but this where their employees, many of them millennials, want to be – [places] that offer loft-style building, public transportation, walkability, a sense of place and other drivers," says Demetrops.
MidCity's Alpharetta City Center project is an award-winning, mixed-use "town center" development that expands Alpharetta's downtown area adjacent to City Hall and the county library. The $100 million project consists of 75,000 square feet of retail and dining, 36,000 square feet of Class A office space, 168 luxury apartments and 42 single-family homes.
Demetrops says that one of MidCity's most notable core competencies is its thorough understanding of the development process from inception to completion. Together, Demetrops and his business partner, Executive Vice President Roger White, determine the most valuable use of a given property for all parties involved, then implement the concept into panning, underwriting, zoning, design and budgeting.
The firm maintains strong relationships with its architects, contractors and subcontractors, which helps the developer deliver the highest quality products. One of its long-time partners is Atlanta-based Fowler Design Associates, which worked on 5616 Peachtree Road. That being said, to align with the unique vision of a project, MidCity typically assembles a different team for each development. In some instances, such as a city center, the firm selects multiple architects.
"We don't want the building to look the same," says Demetrops. "We want to have an architect or even several architects make it look like it was a lot of different people who built this town center over time."
In addition to architects, MidCity selects its residential, retail and housing partners based on the distinct needs of a mixed-use project. For the Alpharetta City Center development, the real estate firm partnered with South City Partners, Morris & Fellows and Hedgewood Homes.
New Town Center
MidCity's upcoming project, The Grove at Town Center, is an 18-acre multi-use project spearheaded by the City of Snellville, which wanted to build a town center to support entrepreneurs, small businesses, professionals and local families. This goal aligned with MidCity's commitment to maximizing the economic performance of its properties and exceeding the expectations of owners, tenants and community members.
With plans to build upwards of 75,000 square feet of retail, restaurants, offices and event space, as well as a public library, a park and 429 multifamily housing units, zoning was recently approved, and the project is expected to begin delivering in 2021. The development will be the crossroad for the Snellville Greenway, a pedestrian/bike trail system. As with Alpharetta, Demetrops notes significant residential development within one mile from The Grove.
"It's going to serve this big hole in Gwinnett County where it doesn't have a walkable environment with the right scale," says Demetrops.
Demetrops attributes the swift progression of The Grove at Town Center to MidCity's cooperative public-private partnership with Snellville's city planners, as well as its collaboration with CASTO, an integrated real estate firm that specializes in merging retail/office with residential. CASTO will lead the efforts to merchandise the best retail tenants for The Grove at Town Center, each with its own expectations and vision.
In addition to its range of offerings, the development will also include the first Class A apartments with covered parking in Snellville – a feature of which MidCity is particularly proud.
"I don't think within five miles there's an apartment complex with covered parking that exists. It's all made possible by this public-private partnership. The City is building the parking deck," says Demetrops. "In all these deals, there's always a higher expectation of the quality/aesthetics, so that's more expensive, but it's worth it to build a better product that's going to last generations."
This story first appeared in the DDC Journal. To read it in its original publication, click here.