Snellville: City, Developer Agree On City Market Development And Lease Agreement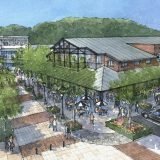 SNELLVILLE — The city has agreed to partner with developer Mid Cast LLC to design, build and lease the prized City Market building planned for The Grove at Towne Center.
"This is another major step in bringing a world-class development to the City of Snellville," Mayor Barbara Bender said. "The City Market will be a centerpiece of The Grove and will draw visitors from across the region who want to enjoy a unique dining and shopping experience in the heart of Snellville."
The Grove as a whole will be a commerce center reflecting the early days of Snellville's entrepreneurial roots dating back to the city's origins and the old Sawyer Store. The two-floor, 24,000-square-foot Market building will include numerous and unique eateries, a coffee shop, a small market, spacious, flexible event space and craft beverage options. Potential plans call for it to be managed by an independent operator brought to the table by Mid Cast and approved by Mayor and Council.
The Snellville Downtown Development Authority will own the building.
Under the agreement, the city will partner with Mid Cast on the selection of an architect to design the building with the Mayor and Council approving final design and budget numbers.
The city's anticipated bond offering will pay for the construction of the building which is estimated to be in the $6-7 million range. The future or perspective tenant will be responsible for internal design and build out.
The City Market will prominently feature outdoor seating, patios, pick-up and drop-off vehicle lanes for ride sharing and take-out order availability.
City officials hope to select an architect before the end of the year and expects the building to be opened in summer of 2022. Design concept renderings will be released sometime in early 2021.
"This market building is a key to deliver the experience the city wants to offer residents and visitors," said Economic Development Director Eric Van Otteren. "Rest assured the City Market will be a destination for residents and visitors alike for decades to come."
The Grove at Towne Center will be a large scale, mixed-use town center property, comprising 18 acres between Oak Road, Wisteria Drive, North Road, and Clower Street, in downtown Snellville. The Grove at Towne Center's first phase will include over 50,000 square feet of retail, restaurant, office, and entertainment space, and approximately 250 multi-family luxury apartments. In addition, the new Elizabeth Williams Library will be constructed and include a 2nd-floor business development/accelerator space.
This press release was produced by the City of Snellville. The views expressed here are the author's own.