Snellville, with Partners, Closes on Land Purchase for The Grove at Towne Center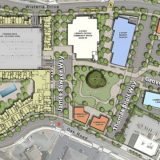 Snellville, in a joint venture with CASTO and MidCity Real Estate Partners has closed on the purchase of the land and its loan with US Bank for Phase I of The Grove at Towne Center. Construction on the project's $85 million first phase began in March with the multi-use project expected to open in late 2022/early 2023.
"Every item we check off the list brings us one day closer to seeing The Grove at Towne Center open to our community," said Mayor Barbara Bender. "It's especially exciting to see physical evidence of this long-awaited project now that construction has begun!"
In addition to 50,000 square feet of shopping, dining, recreation, and business space, The Grove at Towne Center will also offer upscale apartments, a new Gwinnett County Library, a special use mercantile building and common areas including The Grove town green.
"Watching a project come to life never gets old," said Kirk Demetrops, President of MidCity Real Estate Partners. "Closing on the land sale is an exciting milestone that opens up the door for us to continue creating and adding to this project that means so much to the city and its residents."
Information and updates on the project: www.snellville.org/the-grove-at-towne-center.
Article as seen in the AJC on June 6, 2021.