Atlanta Office Leasing Picks Up Speed, But Sublease Availability Is Growing Faster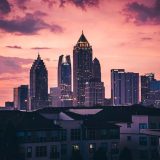 Companies offering their space for lease to other businesses are an increasingly large factor in the Atlanta office market.

There was 7.7M SF of office space on the sublease market in Atlanta at the end of the first quarter, 34% more than a year ago and a new all-time high for the region, according to Avison Young's quarterly report.

Roughly 2.1M SF of that availability is currently vacant, while the majority of the sublease space is being occupied but marketed nonetheless, said Sara Barnes, the director of insight for Avison Young's Southern region.

But the 5.6M SF of office space on the sublease market is raising alarms for the health of the office market overall and exemplifies the continued uncertainty companies have with just how much office space will be enough at a time when hybrid work has become the norm, Barnes said.

Four of the top 20 leases signed in the first quarter were sublease deals, including Procure Advisors' 44K SF sublease at One Overton Park in the Cumberland/Galleria area, Colliers said in its quarterly report.

Chronic uncertainty on office space needs can easily turn to actual vacancies once company leases run out.

"Less space is the ultimate need of most companies," said Kirk Demetrops, the founder of MidCity Real Estate Partners, a firm that has developed a number of corporate offices in Atlanta, including buildings for JAS Corp. in Central Perimeter and DataScan's headquarters in Alpharetta City Center. "[Sublease space] is going to be a competitor in the marketplace."

As companies continue to gravitate toward newer offices in their efforts to recruit and retain workers, subleases are becoming a more viable option. With some subleases being offered with furnishings, taking over the space of another company is allowing corporate executives to tamp down on real estate expenses, Demetrops said.

More offices were emptied than filled in the first quarter, with Metro Atlanta's absorption turning a negative 42K SF, keeping the overall vacancy rate at 22.7%, according to Avison Young.

While the 1.3M SF leasing activity was up by 1.7% over the fourth quarter, according to Cushman & Wakefield, much of that activity was dominated by companies renewing their leases. Some of the largest renewals this past quarter included Q2 Solutions' 81K SF lease at 1600 Terrell Mill Road in Marietta and Paradies Lagardere's 47K SF renewal at Overlook I in Cumberland/Galleria, according to Avison Young.

"The day Covid hit in March '20, the fate of our space has been debated in the newspapers," Demetrops said. "Right now, it appears that it's not coming back in the old form."

This article first appeared on the site Bisnow.com on April 24, 2023 by Jarred Schenke. To see the original article, click here.